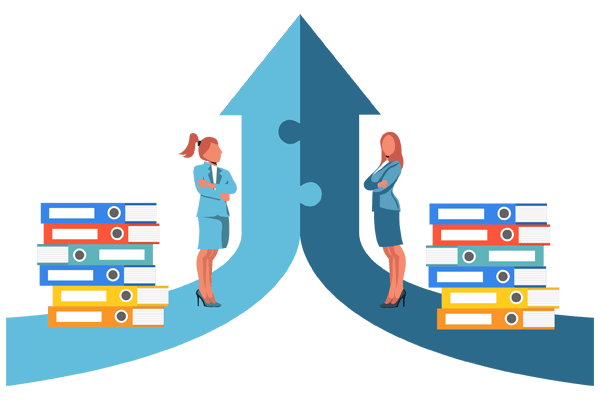 Our Mergers & Acquisitions Advisory
Today's fast-evolving and unpredictable environment require businesses to be focused on achieving their goals. With ever-changing variables, it is important that the decision-makers make the right moves in order to avoid missing opportunities and undesirable risks.
Businesses today are not only exploiting existing profitable business models to run their core business but are also exploring new markets, products and business models to drive growth. Large and well-established businesses in need of long-term growth often turn to Mergers & Acquisitions.
It is one of the fruitful ways to grow your business and derive instant results without long-term gestation period. This is one of the major reasons to see a surge in Mergers & Acquisitions activities over the period of time.
However, the increase in the pace of Mergers & Acquisitions activities puts an extra pressure on the decision makers to relentlessly stay focused. Pursuing mergers and acquisitions does not come without challenges. Combining two businesses means inviting new challenges, complexities, operational risks, diverse environment and a lot many other issues.
Although Mergers & Acquisitions can be a real path to growth but the challenges faced often results in failure to yield the desired growth objective. Therefore, savvy leaders seek professional Mergers & Acquisitions advisory that will help them to reveal and unlock the full value of the deal and opportunity.
At IMC, we possess a deep knowledge of local market conditions and the regulatory nuances that can impact a Mergers & Acquisitions transaction. We understand the challenges on both sides of the transaction and recognize the need for both parties to drive maximum deal value.
Our professionals have vast experience and an in-depth knowledge of Mergers & Acquisitions transactions which helps them to deliver growth-oriented results to our clients across the globe. Our team strives to create holistic solutions that helps you to identify the major risks and rewards throughout the deal cycle and lets you confidently navigate the complexities of buying and selling a business.
For holding company, we help you identify the target markets and potential targets. We also help you align deals with your strategic business goals, enhance overall value from the integration and maintain compliances throughout the process.
For target company, we help you analyse and assess the potential risks and rewards of a deal. We also help you to maximize the sales price and get maximum benefit from the transaction.
With our deep industry expertise and a broad range of skills, we endeavour to help you create growth and opportunity for your business.
Mergers & Acquisitions can add great value to the business, but ensuring that every step of the process right from valuation to negotiation and completion is successful requires immense knowledge and expertise. Only an expert like IMC Group can handle the process in an efficient manner.
Our services are designed to help you attain your strategic business goals by identifying and implementing opportunities to acquire or merge with other businesses.
Our global reach can help you avail our services from anywhere in the world.
Tax reforms and regulatory restrictions can influence a deal but we can safeguard you with our team of dedicated specialists who can address any specific challenges that may arise.
Broad areas where we can assist you with:
Generating opportunities to create value by acquiring or merging with a business
Identifying the right deal and closing it at the right time
Negotiating the right price for the deal
Identifying the risks, black holes or pitfalls in the deal
Identifying optimal capital structures and financing strategies
Spot opportunities for private equity investment
Securing finances from other sources
Strategic assessment and planning
Conducting due diligence
Ensuring that the entire process right from planning to execution is efficiently carried out
Extending our support for successful business integration
Valuation and business modelling
According to the recent global survey, less than one-third of all Mergers & Acquisitions deals actually create value. This is owing to the challenging market conditions and the multitude of challenges faced by both the parties to perform successful acquisitions, integrations or disposals. Our approach is framed in a way to assist you in identifying and enhancing value throughout your investment lifecycle. We pay strong emphasis on creating value and the early identification of key risks and benefits.
We understand that the intricacies of a deal are unique in every case and hence we conduct a SWOT analysis for our clients. Our approach is tailored to focus on your risks, complement your strengths and support your areas of need. Just like each case is different, we also believe that nuances of each industry sectors are unique too. Our team brings in extensive experience across a wide range of industries and has an in-depth understanding of all nuances that can impact a deal. We can act as your mentor and guide you through the opportunities and challenges that may come your way.
Our expertise, industry knowledge and global network, enables us to efficiently focus on the opportunities, help you anticipate problem areas, smoothly conduct your deal and give you an edge over your competitors.
Our wide range of services enables us to serve you seamlessly throughout the Mergers & Acquisitions cycle.
Just drop your email id and contact number. We will get in touch with you.