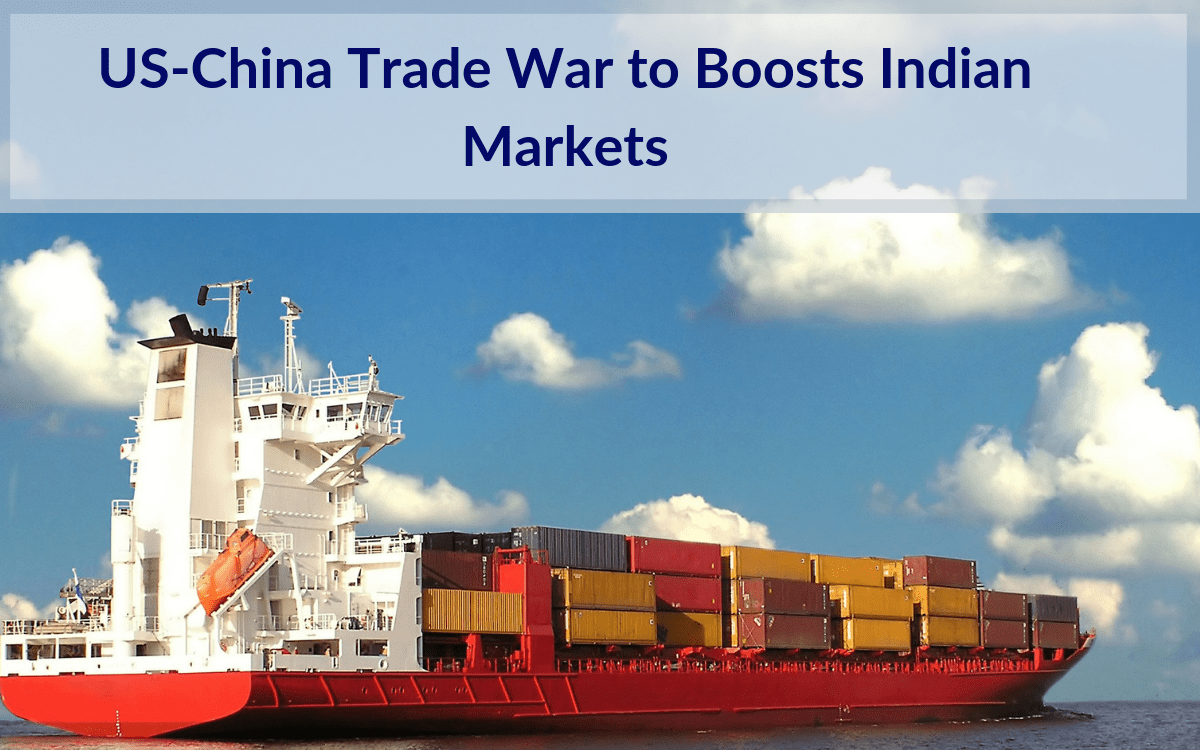 31 May

US-China Trade War to Boosts Indian Markets
Email This Post
US-China trade war has been a major concern for many companies and economies across the globe. The tussle between the US and China gives nations like India a chance to enter into new foreign markets. Many companies from the US are looking to relocate their companies from China to India. In addition, the export from Indian companies can increase drastically amid the trade war.
Recently in a media interview, US-India Strategic and Partnership Forum (USISPF) – a US-based advocacy group, said that the US has been looking at India as an alternative to set up companies that are moving out of China. This will certainly give a big boost to India's manufacturing sector.
Many top brands like Samsung, Adidas, Nokia, etc. have already shifted their manufacturing base from China even before the trade war began. This was done to reduce their costs and diversify their supply chain. If this manufacturing base shifting continues to happen, India will prove to be a great alternative to China.
Why India Appeals as a Manufacturing Hub?
The Indian government took several initiatives to bring structural reforms and intellectual property rights, which has attracted companies from across the globe to India and start their manufacturing unit.
In the recent years, many big companies have set up their manufacturing units in India. One of them is Samsung electronics, it has set up the world's biggest mobile phone manufacturing plant in India. Another example is the iPhone which has started assembling its phones from India.
Since many companies are eyeing at India to set up their manufacturing unit, it is important to learn what makes India so appealing.
What Makes India Appealing?
Lower Labour Cost

Many global giants and start-ups are looking for foreign company registration in India because it offers many benefits. The primary benefit is the low labour costs which makes manufacturing affordable. India's labour cost is lower than China and the majority of the Southeast Asian countries. Also, there is a large pool of engineers that offer world-class expertise with wages less than the Chinese labour force.

Huge Customer Base

Furthermore, what makes India highly attractive is the large population which provides the manufacturers with a good domestic market for their products. The 1.3 billion population of India has the market for every product that various companies offer. Therefore in terms of consumption, India's population is higher than any other Asian country other than China.

Easy Access to Natural Resources

Another reason why there is an increase in setting up of manufacturing base and company formation in India is the access to natural resources. When the prices of raw materials or natural resources are compared with any other country, India is the cheapest. India has a vast reserve of iron ore, aluminium, etc. which proves to be a good alternative to China when it comes to setting up of manufacturing units in auto or apparel sector.

Favourable Government Policies

Government policies have played a significant role in attracting businesses to set up their manufacturing units in India. India's manufacturing sector got major strength from the "Make in India" program. This program facilitates investment, protect intellectual property, build manufacturing infrastructure, enhance skill development and foster innovation. Furthermore, many bold moves like the implementation of goods and services tax, the revival of the power sector, IBC code, etc. have addressed the concern areas of the economy.

Free Trade Agreements

India has many free trade agreements (FTAs) inside and outside the Asian region. Also being a signatory of ASEAN, India provides the companies an access to the world's largest FTAs. This gives the companies an opportunity to sell their products not only in India but to the outside regions as well.
Setting Up Your Business in India
Before setting up your business in India, you must understand the wide geographical area of the country. On the basis of need of the business, the manufacturing unit must be set up accordingly. The infrastructure facilities vary from state to state. Also, many states offer various incentive facilities to the business for setting up a manufacturing unit.
Like for example, states like Gujarat, Andhra Pradesh, Tamil Nadu, West Bengal and Maharashtra have their own industrial policy that emphasises on developing the manufacturing sector. Gujarat offers various incentives and facilities for setting up production units in jewellery, chemical, textile and pharmaceutical sector. For setting up business units in automotive and auto-component manufacturing, Maharashtra is the most popular place. For electronics assembly and manufacturing, Uttar Pradesh and Tamil Nadu are the popular states.
Therefore, it would not be wrong to say that the wide geographical land of India offers many opportunities for setting up manufacturing units in the country.
About Us
IMC Group caters to all the requirements regarding company formation in India. We understand the various challenges that your business may face in India. We help you in identifying the right location for your business. Our wide range of services can assist you at every step of the company or manufacturing unit set up in India. Some of our services include:
Legal Set-up Services
Physical Set-up Services
Ongoing Services
The aim of the IMC Group is to act as a one-stop solution for all your business needs in India.