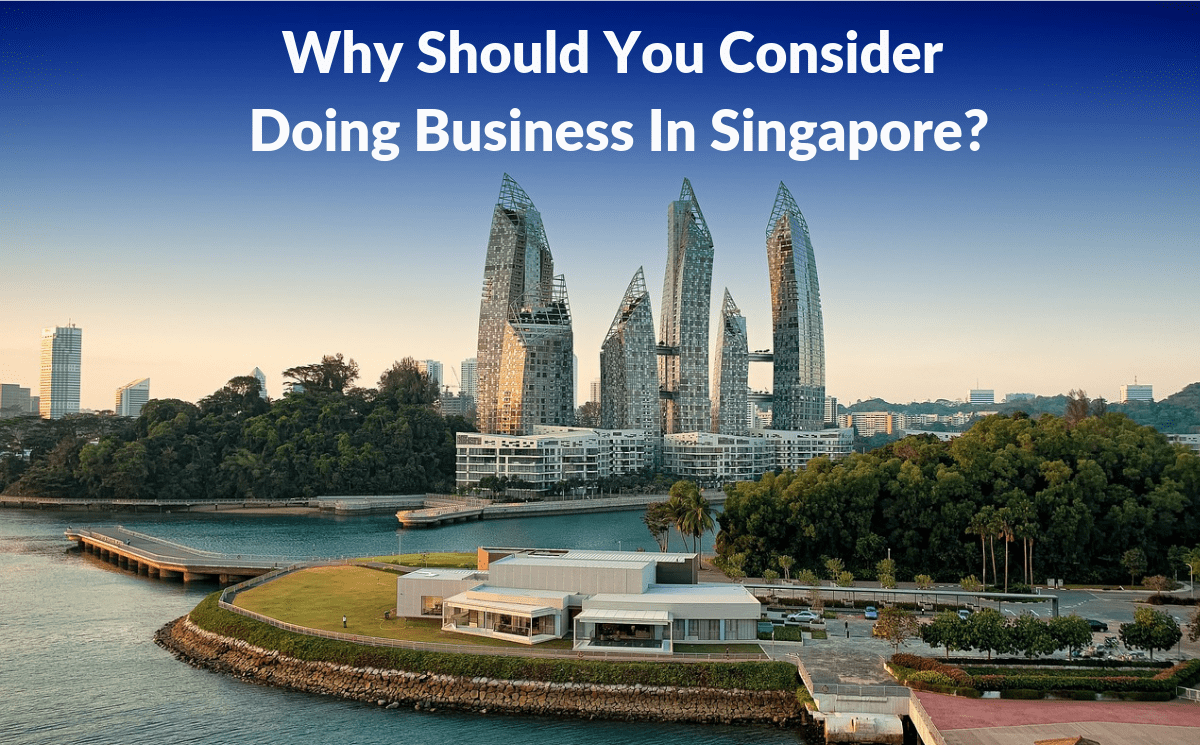 01 Nov

Why Should You Consider Doing Business In Singapore?
Email This Post
Whether you are looking for a global expansion of your existing business or are eyeing to set up a new business, there are several reasons to consider Singapore. It is an ideal location for companies all over the world to set up a new business or expand their market.
With highly efficient infrastructure, business-friendly atmosphere, stable socio-political environment, attractive tax regime, efficient regulatory systems, great market potential, fastest growing economy, open business policies, skilled workforce, enforcement of intellectual property rights and much more, Singapore provides the most conducive environment for companies looking to expand in the region.
Singapore is consistently acknowledged as a global business hub and an increasing number of companies are moving in this region. Moreover, Singapore ranks 2nd among 190 economies in ease of doing business as per the World Bank's annual ratings, 2017. As of 2016, the World Bank ranked Singapore as the best country in the world for doing business for the last ten consecutive years. In addition, it is ranked number 1 out of 82 countries for the most efficient and open economies for seven consecutive years by The Economist Intelligence Unit. Not only this, Singapore is the 3rd wealthiest country based on the per capita GDP and is listed among the least bureaucratic countries in the world.
Let us see what all factors contribute to making Singapore an attractive location for entrepreneurs.
Singapore has a sturdy economy with a very strong foundation. Its economy is rated AAA by S&P. It is also the world's 3rd richest county based on its per-capita GDP. It has a very low unemployment rate while maintaining low inflation. Moreover, the county has no external public debt which contributes to a robust and well-managed economy.
Singapore has a transparent, stable and orderly government, whose vision is to take the nation to the progressive path. Its political system is very efficient where each law, policy and regulation is framed keeping in mind the rational and pro-business approach.
Singapore has a world-class infrastructure with excellent road transport system and communication facilities. Not only does the country operate efficient air and seaports but also offers a good network of the highway system, subways, internet infrastructure, etc. Its technological infrastructure supports enormous growth and improves the productivity of the businesses located in the region.
Singapore is strategically located in the heart of South-east Asia and enjoys close proximity to emerging markets of India and China. Moreover, it enjoys the benefits of excellent connectivity to virtually all corners of the globe.
Singapore boasts of the best labour force in the entire world in terms of their productivity, skills, education, technical proficiency and hard work. Being a knowledge-based economy, its manpower is educated and professionally qualified. So, setting up a business in Singapore means you get access to the highly skilled talent pool. 
Singapore offers one of the lowest corporate tax structures in the world. Apart from the attractive tax framework, the government has signed over 21 free trade agreements with 27 economies and 76 comprehensive avoidance of double tax agreements which facilitates smooth business across borders. 
Abundant Finance at Low Interest Rates
Singapore is home to over 128 commercial banks, 31 merchant banks, 365 fund managers and 604 capital markets services license holders. It is a primary hub for wealth management and investments in entire Asia which makes it easy for the businesses to have access to private as well as commercial banking services to fund their expansion and at very low interest rates. Moreover, the government in Singapore offers various tax incentives, financing schemes and cash grants to encourage businesses to set up in the country.
Easy Company Incorporation Process
Setting up a business in Singapore is very easy and straightforward. You can easily set up a company here in just a few hours. The country welcomes with open arms investors, entrepreneurs and professionals who can complement its economy.
You can set up a company in Singapore in 5 simple steps.
1.     Choose your business entity
2.     Register your company by complying with the minimum setup requirements
3.     Open a corporate bank account in Singapore
4.     Get the necessary permits
5.     Set up an office and hire well-trained and qualified employees
Bottom Line
Singapore enjoys an attractive position in the global economy and continues to be every entrepreneur's heartland in Asia. The above-mentioned factors make Singapore the world's top country when it comes to doing business.
Seeing an opportunity, we, at IMC Group have set up our own office in Singapore to cater to the growing needs of businesses. With a gamut of services including company incorporation, acquiring various business licences, conducting market survey, getting government approvals, facilitating accounting, tax and payroll, we support your business set up in Singapore. You can count on us to be your one-stop business solution.