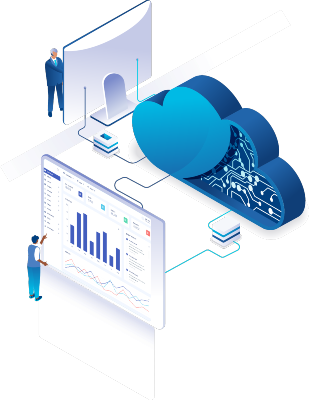 Can Cloud Computing for CPA Firms Revolutionize the Accounting Industry?
High-speed Internet, mobile technology, artificial intelligence (AI), and machine learning; the harbingers of the present day's digital transformation are now preparing the stage for the fourth Industrial Revolution across the globe with cloud computing at the centre of this revolution.
As a result, a rapid and widespread increase in the adoption of cloud computing has been witnessed in many organizations irrespective of size, sector and geography. As per a report published by a global consulting firm during 2019, more than one-third of the industry experts surveyed worldwide consider putting money in best cloud solutions for CPA firms as one of the top three investment priorities with a potential of exceeding USD 300 billion in the coming years.
Cloud computing is defined by the National Institute of Standards and Technology (NIST) as a means of on-demand access to shared pools of computing resources including networks, servers, storage applications, and services that can be rapidly configured and made use of.
The cloud is simple terms can be visualized as massive clusters of super-sized and scattered servers across the world and are run by Cloud Service Providers (CSPs) such as Amazon AWS that also provides hosting services. Accounting firms using cloud computing are adopting a cloud-first strategy for new systems or when replacing systems.
Cloud accounting firms are now migrating from onsite servers to those in the cloud and accessing programs and data files on the cloud from any device at any time by choosing public, private, community or hybrid cloud infrastructure.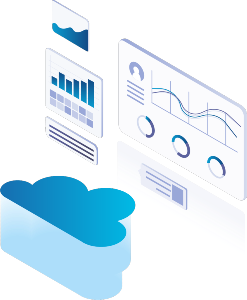 What Is the Difference between Traditional Accounting and Cloud Accounting Software?
The most obvious difference between traditional accounting and cloud computing is that in the case of traditional accounting, you can access your financials only from the computer on which the software is installed whereas cloud computing offers you access through a web-based interface that can be realized from anywhere and anytime and even from your mobiles and tablets.
Secondly, when traditional accounting involves onsite software and hardware costs including their maintenance, cloud computing doesn't need any large initial investment and recurring maintenance cost.
How is Cloud Computing Unfolding for CPA Firms?
Not every CPA firm is bullish on cloud computing. However, a shifting trend is now gradually unfolding as many CPA Firms are realizing the cloud as a viable and cost-effective alternative to local networks.
The mood appears to be cautious as many CPA firms are still in a dilemma and not looking very enthusiastic about the idea of depending on outside resources. The firms are preferring to be selective in the adoption of cloud and looking in some specific areas and categories initially rather than taking a quantum leap. The main areas of interest have been seen in audit solutions, workflow and practice management and billing.
Why many CPA Firms are opting for Cloud Solutions?
CPA firms are opting for cloud technologies for many different reasons such as
To facilitate remote access to financial documents
To promote paperless storage of financial records and saving mother nature
To use cloud servers as backups for their onsite ones
To access applications such as Zoho Books, Sage, QuickBooks, CaseWare, Cantax and many others
What are the models for cloud deployment?
Accounting firms using cloud computing can choose the following services deployment models such as
Single and Multi Public Cloud which is available to the public and owned, managed and operated by a third party CSP

Single and Multi Private Cloud which has been set up for one organization either on or off premises but accommodates multiple customers within that organization

Community Cloud may exist on or off premises and available to the public. It can be shared by several organizations and can also support a specific community that has shared requirements. It may be managed by an organization or a third party

Hybrid Cloud is a composite of two or more deployment models; private, public and community and united together with technology enabling data and application portability
What are the models of cloud solutions?
Best cloud solutions for CPA firms are built on the following three primary cloud solution models
Infrastructure as a Service (IaaS) is a software licensing and delivery model where the basic computing infrastructure of servers, software, storage and network equipment is delivered, managed and operated by the CSPs

Platform as a Service(PaaaS) for creating, deploying, managing and scaling of applications by the clients and accounting firms using cloud computing with the available infrastructure, operating systems and programming tools, and services delivered and managed by the CSPs

Software as a Service (SaaS) is a software licensing and delivery model where the CSP delivers all the resources of operating systems and programming tools including the infrastructure and some applications usable by cloud accounting firms whenever necessary on a subscription basis
What are the benefits of using the Cloud Accounting Software?
Cloud accounting offers numerous benefits to the users and some of these benefits are

Ease of Access
The only thing you need as a finance and accounting professional of cloud accounting firms is just an internet connection which can give you access to your organization's financial data to work upon from home or even during travelling.

Productivity Improvement
Accounting firms using cloud computing always experience higher productivity through automated processes and reduced manual work. Automated software also ensures error-free operations and leaves you more time for focusing on strategies and plans to increase profit margins for your organisation.

Environmental Protection
When we avoid any large scale paperwork we automatically protect our environment. By storing all our records and documents in the cloud, we can attain a paperless working environment. Large scale. And saving papers get you a little closer to saving your environment.

Auto Updates
Your CSPs can provide automatic software updates at a nominal cost to keep your accounting systems healthy and free of bugs.

Scalability
Accounting firms using cloud computing can easily and quickly scale up or scale down operation and storage space requirement based on the market situation and business loads.

Increased Collaboration
Collaboration has become vital in the face of the pandemic when more and more companies are resorting to remote working from home. Cloud accounting offers the advantage of coordinating and collaborating effectively without any loss in work efficiency.

Reduced IT Cost
As cloud computing doesn't need any upfront investment for IT infrastructure build-up and is free of regular periodic maintenance, the best cloud solutions for CPA firms can be availed at a fraction of on-site IT cost.

Security of Financial Data
With a high level of encryption and multi-level authentication, accounting data remain safe and secure in the cloud taking away worries and anxieties from daily work life.

Backup of Data
Cloud accounting software comes with automatic data back features freeing eliminating any possibility of lost data due to unforeseen calamities.
In a Nutshell
Cloud computing software offering the best cloud solutions for CPA firms has now become truly indispensable to the accounting industry considering its multiple and immensely beneficial attributes.
What are the risks and challenges of Cloud Computing?
Though cloud computing offers many benefits, it also comes with a fair share of challenges. The new normal due to pandemic had given rise to widespread remote usage of cloud computing and increased security risks and data confidentiality breaches including some other challenges.
Some of the immediate risks challenges are
Security Risks due to the unknown and outside location of data storage and processing including inadequate security configuration.

Lack of Expertise especially for SMEs where talents are not in plenty.

Cost Control due to scalable and on-demand characteristics of cloud accounting.

Compliance issues arising from backup services and cloud storage.

Cloud Migration and storage of data.

Governance issues due to maintenance and control of IT assets.
Realising the risks and challenges, many accounting firms using cloud computing firms are planning for their private cloud or purchasing public cloud services from other cloud service providers (CSP), including Microsoft Azure and Amazon AWS.
There is no doubt that even with some risks and challenges, cloud computing is all set to have the last laugh as the winner which has been reinforced by the recent changes to the CPA examination syllabus that emphasized an understanding of business processes, automation, data analytics and advocated the replacement of some earlier topics such as the difference between IFRS and GAAP standards, estate taxes and trust.