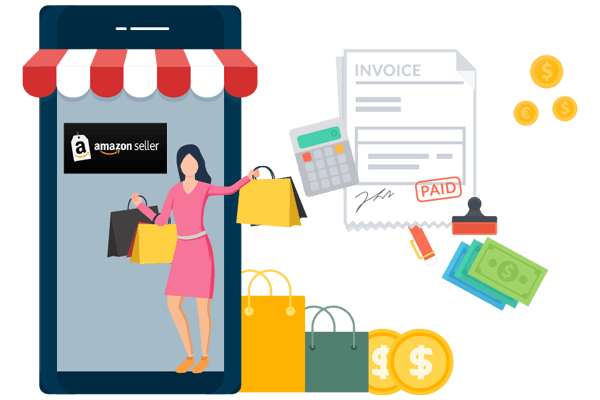 Accounting For Amazon Sellers Is A Daunting Task
Over the years, consumers' shopping habits have rapidly changed from physical retail shopping to digital online shopping. Consumers are looking for newer ways of shopping experience with added benefits through new technologies and constantly moving away from brick and mortar shops. Covid 19 pandemic has put additional fuel in it due to the mandate of self-distancing and lockdowns.
Expanding your business and leveraging the power of Amazon
Amazon has become a household name today with increasing numbers of consumers using the Amazon app to meet their shopping needs, and Amazon FBA (Fulfillment by Amazon) has turned out as a very popular way to sell products and earn income online.
Amazon has one of the largest active consumer bases in the world, with more than half of the US online market share and almost 200 million active customers visiting Amazon every month. By using Amazon, your products become more visible to a large pool of consumers across the world and increase your potential for more sales and profits.
Accounting for Amazon Sellers could indeed be challenging
Every business faces financial management and performance challenges, and your business as an Amazon Seller is no exception. In most cases, when you are busy in promoting sales and marketing of your products, the accounting aspects of the business are easily forgotten.
The following are a few reasons posing challenges to accounting for Amazon Sellers in India
The complex fee structure at Amazon
Fees of Amazon is a big part of your profit and charged as commissions, warehousing cost, and advertising fees where too many complexities are involved.
Smaller transactions give you better profit; however, it involves the generation of more data points requiring stratification. Unless properly grouped, your accounting system may slow down or even crumbles.
Customer returns are challenging
Customers can easily return your products on the Amazon platform, and reasons may vary widely. Proper accounting and costing of returns could be a herculean task at times.
Key Areas of Accounting for Amazon sellers
Accounting is the key to successful Amazon Sellers as poor accounting will generate inaccurate financial data and result in poor financial decision making. The three key areas for accounting where an Accounting services company for Amazon Sellers contributes are
one of the most complicated aspects for Amazon Sellers is sales tax violation of which may attract huge tax liabilities and penalties. Familiarity and understanding of tax laws and application of the right analytical tool are indispensable and almost always require you to hire external expertise.
Accurate Inventory Count and Cost of Goods Sold (COGS)
Inventory and COGS are the most common problems encountered in accounting for Amazon Sellers. The immediate entry of the cost of purchasing new inventories may lead to erroneous performance, and the profitability of your business and errors will multiply as your business grows.
Every two weeks, your account will be credited by Amazon. However, recording these deposits as sales will lead to big errors and poor sales data. The deposits not only include sales but all other activities associated with your Amazon seller accounts such as FBA fees, shopping fees, warehouse fees, sales tax, and returns. The deposits hardly even reflect the separate details, and without proper knowledge and expertise, your business may be in jeopardy.
Selecting the best accounting software for Amazon Sellers and why IMC should be your first choice
Providing the highest quality of accounting for sales through Amazon, on time for the right financial decision making at optimum cost, is the primary criterion for the selection of Amazon Sellers Accounting. IMC with the following service features should always be your first choice
High technology and customized e-commerce seller accounting solutions

Ready accounting services at every stage of online selling

Appropriate Training to your internal accounting personnel

High-cost competitiveness
Accounting services by highly qualified and experienced accountants with very good exposure to tax laws

Zoho, QuickBooks, and Xero certified services

Dedicated Accountants to address your every accounting need

Market reputation and trustworthiness
Before we invite you to embark on any e-commerce business and also as Amazon sellers, there are a few important challenges that you need to get acquainted with.
For Your Accounting ,  Just drop your email id and we will get in touch with you