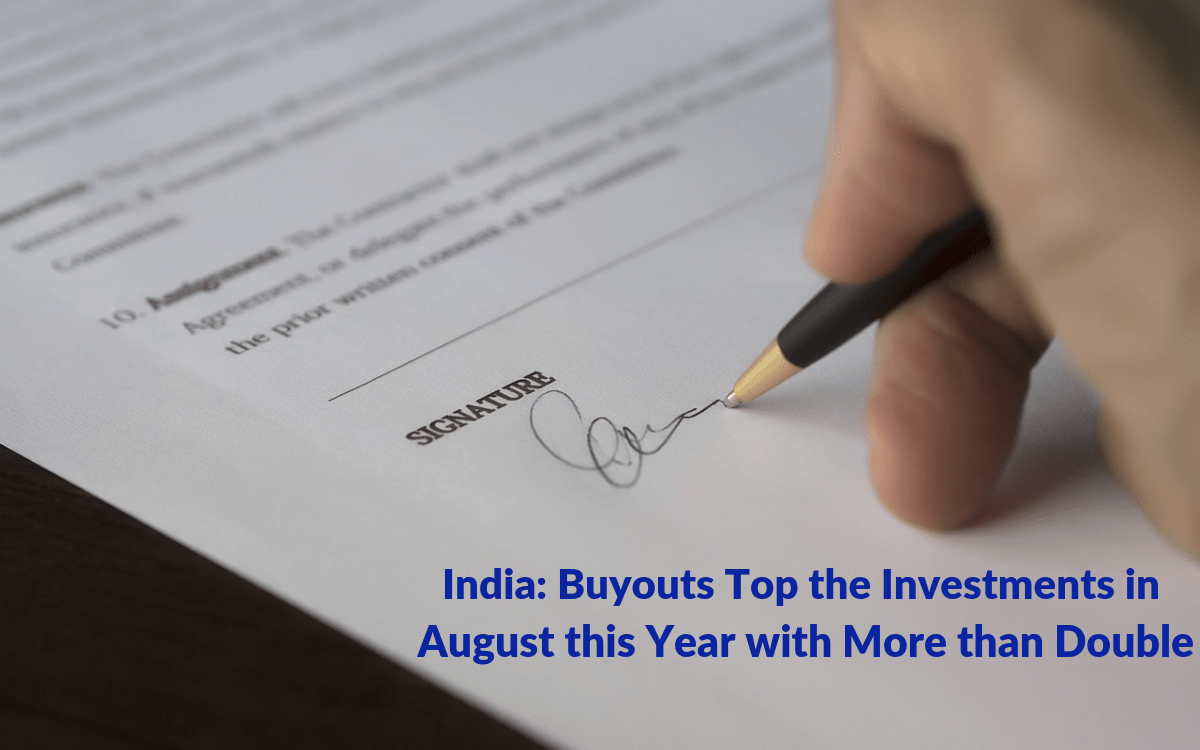 15 Oct

India: Buyouts Top the Investments in August this Year with More than Double of What was Received in August Last Year
Email This Post
Data shows that there were investments worth US$1.6 billion in August 2018 across 50 deals, in which the buyout deals recorded a little over a double jump in the value as compared to August last year. Year-to-date, PE/VC investments done till August 2018, has shot up to US$18.7 billion, which is about 9% more when compared to the same month in 2017. August 2018 had US$830 million across 18 exits with over two US$200 million deals. While exits in 2018 (counted between January to August 2018) were at US$6.7 billion, with just the Walmart-Flipkart deal of US$16 billion, exits in this year are predicted to shoot up to two times of the total value of exits recorded in last year.
Investments
In August 2018, the deal value stood at US$1.6 billion, which was at par with the investments that were recorded one month earlier; however, it was almost a 71% decrease as compared to August 2017. The huge difference here is because of the two mega deals in August 2017 – first one of Softbank's US$2.5 billion investment in Flipkart and the second one of GIC's US$1.4 billion investment in DLF Cyber City. When we talk of deal volume, the investment activity in August 2018 was almost equal to the deals recorded in August 2017.
In August this year, there were four deals which valued more than US$100 million (and were cumulatively totaling up to US$1.1 billion), and accounted for almost 72% of the entire investments as against US$4.7 billion, which was recorded across six deals around the same time last year, which included a couple of the biggest PE deals (mentioned above) that happened in the Indian Market. The biggest deal in August 2018 was KKR's buyout of 60% stake worth US$530 million in Ramky Enviro Engineers Limited.
When talking about the investment stages, buyouts topped the charts in terms of investment value, with four deals worth US$683 million, which is over two times the investments received in August last year. Expansion or growth deals, which mostly lead the way when it comes to investment value, totaled up to US$467 million in investments as compared to US$4.5 billion in August 2017. Start-ups were at the top when we talk about the number of deals (29 deals).
Power and utilities were at the top from a sector point-of-view, with US$532 million investments recorded just by two deals. The next in line was real estate which had US$360 million invested in two deals. Financial services recorded about US$42 million of investments with six deals. When talking about the number of deals, Technology was at the top with seven deals.
Exits
In August 2018, 18 exits were recorded with US$830 million, which was twice the value when compared to July 2018. But when compared to August 2017, exits have gone down by about 61% in terms of value, majorly because of some large exits that were recorded in August 2017 such as Tiger Global's exit from Flipkart, which was worth US$800 million, IFC's exit from Tikona Digital which was worth US$246 million and Bain Capital and GIC's part exit from Genpact worth US$294 million.
The biggest exit in August this year valued at US$225 million, which was a part exit from Ola –a cab aggregator, by Helion Ventures, Accel India, Bessemer and others when a secondary sale was done to Temasek. Another huge exit in August 2018 was when Warburg Pincus sold 8.3% stake in AU Small Finance Bank Limited for a value of US$223 million in the open market. Then the lucrative conclusion of the US$16 billion Walmart-Flipkart deal, which happened in early September will be topping the lists of exits so far in the Indian PE/VC industry and also overshadow the dollar value of the exits that happened last year.
Open market exits were at the top with deals around US$480 million across eight exits, which was followed by three secondary exits which were valued at US$248 million. A PE backed IPO that came out in August 2018, saw Micro Ventures give up its stake in the Credit Access Grameen Limited for a value of US$71 million.
Financial services led from a sector perspective, as it recorded six deals worth US$381 million.
Fund raise
In July 2018, there were nine fund raises which were worth US$2 billion. In addition, fund raise plan was announced for about US$3 billion in August 2018. The hugest fund raise totaling US$695 million was done by Sequoia with an aim on investments during the early and growth stage especially in the sectors such as technology, healthcare, and consumer sectors.